Wellington Energy
Wellington Energy, Inc., a subsidiary of Wellington Power Corporation, is helping its utility clients spark a revolution in productivity through the implementation of Advanced Metering Infrastructure (AMI) systems for collecting, organizing, and managing electric, gas, and water usage data. Beyond the labor cost savings associated with the automated collection and processing of usage meter information as digital data, AMI systems support corporate inventory control and resource planning systems for controlling supplies and managing distribution.
Located in Warrendale, Pennsylvania, Wellington Energy provides AMI design and implementation services and is a leader in this emerging field. The management team at Wellington Energy has more experience with AMI installations and retrofit operations than any other service contractor in North America. With experience in high- and low-power RF solutions, power-line carrier technologies, basic and advanced POTS communication devices, and cellular and packet data systems, Wellington Energy can design, implement, and manage any utility AMI project anywhere in the world.
Wellington's next generation ServAnywhere® Work Management System is a fully integrated system created specifically for AMI project planning and scheduling. This comprehensive approach provides supply chain management, endpoint and network field work order dispatching and completion, global positioning system (GPS) image capture and cataloging, call center management, and inventory control.
Featured
Project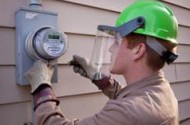 FIRSTENERGY CORPORATION
Wellington Energy Inc. is providing advanced metering infrastructure (AMI) installation and support services for FirstEnergy Corp in Pennsylvania. Comprised of multiple electric companies, FirstEnergy's Pennsylvania territory provides electrical utility power from the western boundary of the state to the bordering suburbs of Philadelphia.
With contracts commencing in 2014, Wellington has provided metering exchange services across this vast service territory. FirstEnergy also selected Wellington to identify and complete repairs and upgrades to customer facing units. These additions to the project scope added complex logistical hurdles not originally envisioned. The obstacles, however, were overcome with seeming ease due to innovative thinking, a dedicated work force, and knowledge applied from past complex projects. .
Because of the abilities and performance levels achieved on the Pennsylvania AMI project, FirstEnergy is currently contracting with Wellington Energy for portions of their Ohio service territory. Wellington's total meter exchanges for the combined contracts are now nearly 2,390,000 units.